Hello guys, welcome back to my blog. In this article, i will discuss what is CMOS, applications of CMOS, characteristics of CMOS, working of CMOS, circuit diagram, etc. Each and everything i will try to explain in a simple way.
If you require an article on some other topics then comment us below in the comment section. You can also catch me @ Instagram –
Chetan Shidling.
Nowadays, we all will hear term VLSI and CMOS, do you know what this actually means? well, guys, i will discuss it in deep.
What Is CMOS
The complete form of CMOS is Complementary Metal Oxide Semiconductor. CMOS is a major class of integrated circuits. CMOS chips include a microprocessor, microcontrollers, memories like RAM, and other digital logic circuits. The term "complementary" relates to the point that design uses symmetrical pairs of p-type and n-type MOSFET transistors for logic functions, only one of which is switched on at any time.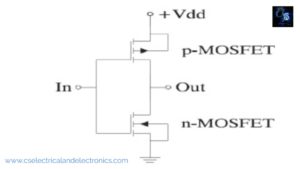 The CMOS is a combination of PMOS and NMOS as shown in the above figure. The PMOS is responsible for charging whereas the NMOS is responsible of discharging. The PMOS has the advantage of charging and has a disadvantage while discharging, whereas the NMOS has the advantage of discharging and has the disadvantage of charging because of power loss.
By taking advantage of PMOS and NMOS, the CMOS is built. Now let's see the working of CMOS.
We all know that the PMOS will be turn on only when we give low input to the gate and the NMOS will be turn on only when we give high input to the gate. Now we will see what happens if we give high and low input to the CMOS.
When we give high input, then the gate of PMOS is high which the PMOS will be turned off and NMOS will turn on, thus the output(Y) will be connected to ground and the output will be low.
When we give low input, then the PMOS transistor will turn on and the NMOS transistor will turn off, then the output will be connected to the Vdd. The output is high when input is low.
DC Characteristics Of CMOS
As we can see in the above figure that the output is high when the input is low and output is low when the input is high.
Applications Of CMOS
01. Micro-processor
02. Micro-controller
03. Chips
04. Logic circuits
The integrated circuit means many transistors are used to build a chip. Both PMOS and NMOS are used to build CMOS because of its low cost, fast operation, low power consumption, etc. To build your own CMOS chip, you require CMOS transistor, you should build logic gates from transistors, transistor layout, and fabrication.
Read the complete article of VLSI design flow –
click here
I hope this article may help you all a lot. Thank you for reading.